Location for Paramount Miami Worldcenter Condo Miami
Miami Worldcenter - At nearly 30 acres, Miami Worldcenter is at the epicenter of the city surrounded by over $3 billion of new public and private projects including mass transit, museums, parks, sports venues, entertainment and The Mall at Miami Worldcenter consisting of luxury retail and signature restaurants anchored by Bloomingdale's and Macy's. Here you will enjoy the unique experience of European style cafes, fine shopping and plaza entertainment that are certain to become the "life" of this neighborhood… just steps away from your home. Your life is now in the center of your lifestyle. Private direct 3rd floor access from your residence into The Mall at Miami Worldcenter.
Paramount Miami Worlcenter - Tower Overview
700+ Feet

470 Residences Residences

Levels 10-54 Typical Floorplate

Level 11-45 12 Residences per Floor
Paramount Miami WorldCenter - 9th Floor Amenities:
Sports:
Spa/Salon:
Treatment Rooms

Hair/Nail Bar

Outdoor Bath Gardens
Play Center
The Roofdeck provides: Resort Pool Walking Paths Picnic/BBQ Areas The Yacht Skyview Deck, located at the very top of the PARAMOUNT tower on the 55th floor, offers a 4-level area with: Lounge, Pool, Yoga Deck
Paramount Miami Worldcenter residence features
Private elevator access with private foyers
10-foot ceilings throughout all living spaces
"Outdoor living rooms" with terraces 11-foot or 14-foot deep
Large entertainment spaces
Designer European kitchens
Rain showers
Spa tubs
Full-size laundry rooms
Lock-out studios (in 3 bedroom residences)
PARAMOUNT Mobile App
Deposit Structure:
10% at Reservation
10% at Contract (Q1 2015)
10% at Groundbreaking (Q2 2015)
10% at 8th Floor (Q4 2015)
10% at top-off
50% at Closing (2018)
Paramount Miami Worldcenter - Residences Features
Condo residences are designed for both your life and lifestyle. Featuring floor-to-ceiling glass, breathtaking views, oversized terraces and innovative floor plans, you will experience Miami life never before.

Paramount Miami Worldcenter - Living
While there are other developments promoting luxury living, few offer what you will experience at Paramount Miami Worldcenter. Both daytime and nighttime experiences feature some of the most breathtaking views in Miami. Your residence will feature water, islands and sky by day – downtown city lights by night. Flow through floor plans and floor-to-ceiling glass create the perfect environment… in the perfect place.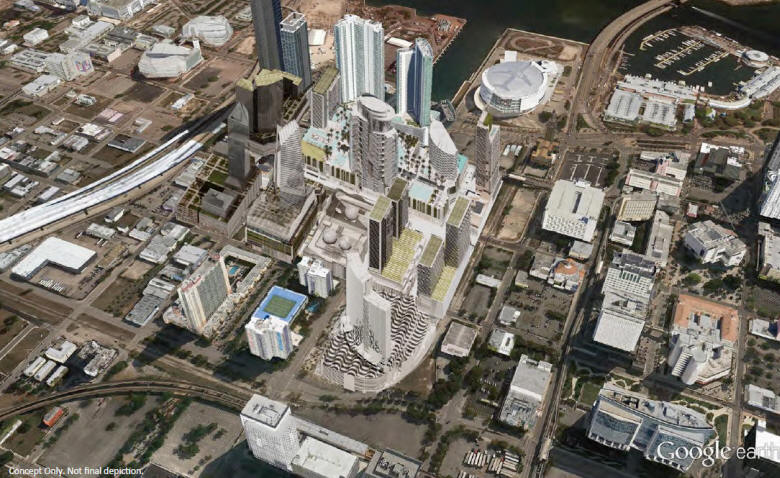 Paramount Miami Worldcenter Condo Miami - Lifestyle
The Downtown District comes to the forefront of international business and luxury living. Desire for waterfront property and Downtown's emergence as Miami's cosmopolitan center has experienced considerable development and even grander plans for the future. Certainly the significance of being the second largest booming international financial center in the United States will further stimulate Miami's entire downtown area and lure new residents and business alike. Downtown Miami condos rising above the beautiful waters of Biscayne Bay is one of the most unique and identifiable skylines in the world. The luxury condominiums on exclusive Biscayne Bay, Brickell Key and those that line Brickell Avenue provide an incomparable life of luxury to their residents.
Living in this exclusive and sought-after location, you will experience the best that life has to offer. From fine dining and shops to tree-lined streets where you can stroll, jog or simply enjoy the natural surroundings that Brickell has to offer. Ideally and centrally located, Brickell is located just minutes from Miami International Airport, Coral Gables, Coconut Grove and Miami Beach.
Paramount Miami Worldcenter Condo Miami - Where to Stay

The Epic Hotel
270 Biscayne Blvd
Miami, FL 33131
Phone: 305-424-5226 | Toll Free: 866-760-3742
Hilton Miami Downtown
1601 Biscayne Blvd
Miami, FL 33132
Phone: 305-374-0000
Intercontinental Miami
100 Chopin Plaza, Miami FL 33131
Phone: 305-577-1000
The Mandarin Oriental
500 Jade at Brickell Drive
Miami, FL 33131
Phone: 305-913-8288 | Toll Free: 866 526 6567
Conrad Miami
1395 Brickell Avenue
Miami, FL 33131
Phone: 305-503-6500 | Toll Free: 800-266-7237
The Four Seasons
1435 Brickell Avenue
Miami, FL 33131
Phone: 305-358-3535 | Toll Free: 800-819-5053
JW Marriott
1109 Brickell Avenue
Miami, FL 33131
Phone: 305-329-3500 | Toll Free: 800-228-9290
Hyatt Regency Miami
400 SE 2nd Avenue
Miami, FL 33131
Things to See Around Paramount Miami Worldcenter Condo Miami

Art Deco District
The historic Art Deco district of Miami represents one of the most spectacular redesigns in modern history. You may wish to stroll round this splendid square-mile in your own time; or take a narrated tour led by Miami Design Preservation League. It's striking, very colorful and a little wacky.

Fairchild Tropical Garden
Fairchild Tropical Botanic Garden is one of the world's preeminent botanical gardens, established in Miami as the one place in America where tropical plants can grow all year round. Housing an extensive collections of rare tropical plants including palms, cycads, flowering trees and vines.

Villa Vizcaya
Should you be missing a taste of Europe visit the Italian Renaissance style Villa Vizcaya. Originally one rich industrialist's rather grandiose winter residence this is now a public museum full of art and fine furniture with quite astoundingly beautiful formal gardens.

Bass Museum of Art
Whilst Miami has a burgeoning art scene with a myriad galleries to visit, particularly around Lincoln Street and the Design District, The Bass museum houses a uniquely comprehensive collection of some 3,000 works of art from Boticelli to Caribbean sculpture. Frequent special exhibitions are held.

Wolfsonian - FIU
Originally the private collection of one incredibly wealthy individual, Mitchell Wolfson, a tremendous art deco waterfall is the lobby focus and many of the pieces are deco inspired. The stupendous Wolfsonian collection explores the evolution of design history.

Center for the Performing Arts
Housing four internationally acclaimed resident companies, the Concert Association of Florida, Florida Grand Opera, Miami City Ballet and New World Symphony, the Performing Arts Center provides extraordinary cultural and educational experiences of the highest quality.

Where to Shop Around Paramount Miami Worldcenter Condo Miami

Shopping Insider at Mandarin Oriental
Get an insider's guided tour on the 'best of the best' in Miami shopping with the assistance of a personal shopping expert. You may book a private half-day tour or the exclusive Shop Like a Celebrity Package.

The Bal Harbour Shops
An internationally renowned collection of specialty boutiques, restaurants and cafes in an impressive tropical-garden setting. Guests staying at Mandarin Oriental, Miami will receive a preferred card chock-full of added value shopping offerings from 30 of Bal Harbour's most coveted brands.

Village of Merrick Park
A Mediterranean-style outdoor mall consisting of extremely high-end stores such as Jimmy Choo, Sonia Rykiel, Neiman Marcus, Miami's very first Nordstrom, and upscale eateries such as The Palm.

Lincoln Road Mall
A pedestrian-only street mall in South Beach, with many specialty shops featuring jewelry, clothing and art, plus an assortment of restaurants. At one time a haven for eclectic small shops, the mall has come to favor large national retail chains yet it still retains a hip buzz.
Paramount Miami WorldCenter - Floor Plans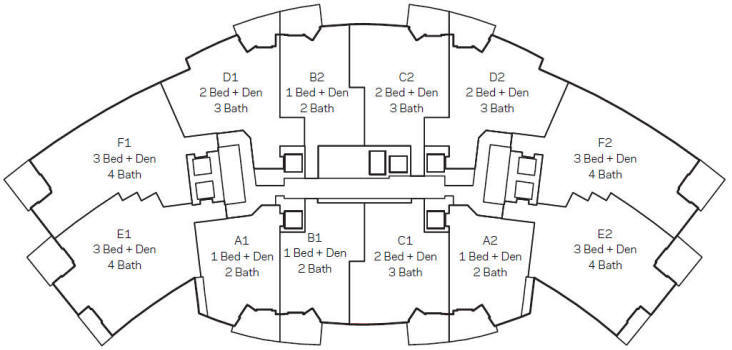 MODEL PLAN
BED / BATH
BALCONY
SQ.FT.
DOWNLOAD
JPG
A1/A2
1 Bed + Den / 2 Bath
Interior: 1294 SqFt
Balcony: 197 SqFt
Total Area: 1491 SqFt
Download JPG
B1
1 Bed + Den / 2 Bath
Interior: 1318 SqFt
Balcony: 205 SqFt
Total Area: 1521 SqFt
Download JPG
B2
1 Bed + Den / 2 Bath
Interior: 1386 SqFt
Balcony: 187 SqFt
Total Area: 1573 SqFt
Download JPG
C1
2 Bed + Den / 3 Bath
Interior: 1630 SqFt
Balcony: 205 SqFt
Total Area: 1835 SqFt
Download JPG
C2
2 Bed + Den / 3 Bath
Interior: 1690 SqFt
Balcony: 187 SqFt
Total Area: 1877 SqFt
Download JPG
D1/D2
2 Bed + Den / 3 Bath
Interior: 1753 SqFt
Balcony: 199 SqFt
Total Area: 1952 SqFt
Download JPG
E1/E2
3 Bed + Den / 4 Bath
Interior: 2320 SqFt
Balcony: 291 SqFt
Total Area: 2611 SqFt
Download JPG
F1/F2
3 Bed + Den / 4 Bath
Interior: 2376 SqFt
Balcony: 202 SqFt
Total Area: 2578 SqFt
Download JPG
Available Paramount Miami Worldcenter Condos for Sale and Rent Paramount Miami Worldcenter Condo Location
ORAL REPRESENTATIONS CANNOT BE RELIED UPON AS CORRECTLY STATING THE REPRESENTATIONS OF THE DEVELOPER. FOR CORRECT REPRESENTATIONS, MAKE REFERENCE TO THE DOCUMENTS REQUIRED BY SECTION 718.503, FLORIDA STATUTES, TO BE FURNISHED BY A DEVELOPER TO A BUYER OR LESSEE.