About Monad Terrace Miami Beach
Ateliers Jean Nouvel presents Monad Terrace, the Pritzker Prize-winning architectís only residential project in Florida. Composed of fifty-nine individually designed waterfront residences arrayed around a glittering lagoon on Biscayne Bay, Monad Terrace provides brilliant light and expansive private outdoor space while being sheltered by climbing gardens that feature native Bougainvillea and Passion Vines. Nouvel artfully directs the play of daylight and water throughout the project. The flourishing and special neighborhood of South Beach Bay, minutes from the organic beauty and cultural attractions of all of Miami Beach, but with a character all its own, provides a natural setting for the unique waterfront living to be found at Monad Terrace.
Situated on the isle of Miami Beach, Monad Terrace Miami Beach delivers the many advantages and privileges of being a beach resident. Besides being home to the iconic Art Deco district, Miami Beach also boasts amazing recreation centers, golf courses, tennis facilities, water parks, and vibrant festivals throughout the year. It is also located within the areaís top hospitals, Mt. Sinai, and many of the districtís top schools. Living at Monad Terrace Miami Beach grants residents a central location close to the downtown business districts in both Miami and Fort Lauderdale.
Monad Terrace Miami Beach - Building Features
Landscape from arrival to bay designed by Jean Nouvel
Concierge; 24-hour lobby attendant
Sun deck with 116-foot swimming pool and hot tub overlooking Biscayne Bay
Pool service
Full service valet parking
Cafe and Juice Bar
Residentsí lounge
Bicycle and water sports storage
Monad Terrace bicycles and paddle boards
Access control
Lush landscape from arrival to bay designed by Ateliers Jean Nouvel
Central lagoon with sun decks, aquatic plants, and infinity edge pool
Climbing gardens on North and South façades for privacy and shade
Monad Terrace Miami Beach - Residence Features
10-foot ceilings
Floor-to-ceiling sliding doors opening up to 5 feet
Custom wood floors throughout
Private elevator access with direct access from garage
Black Zeus marble and black mirrored entry
Custom flush doors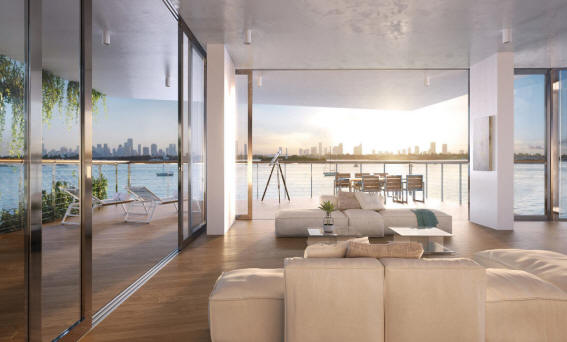 Monad Terrace Miami Beach - Kitchen Features
At Monad Terrace, the exclusively designed kitchens by Jean Nouvel establish the sculptural centerpiece of each residence. The dramatic cantilevered marble island and fully integrated state-of-the-art appliances synchronize with the wood ceiling and reflective cabinetry.
Kitchens designed by Jean Nouvel with custom mirrored honeycomb glass cabinets and brushed bronze accents
Sculptural cantilevered marble island in Calacatta Gold
Kitchens with custom wood canopy and Calacatta Gold floor
Fully integrated Gaggenau appliances
Custom marble wine rack
Integrated wine cooler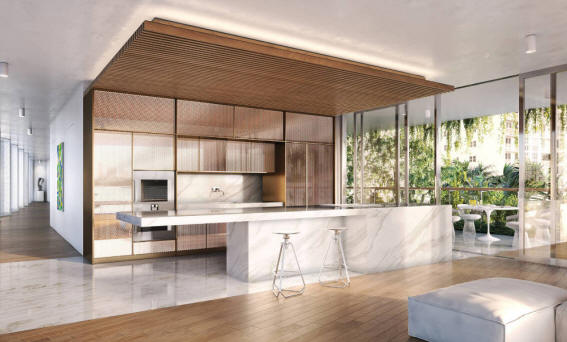 Monad Terrace Miami Beach - Bathroom Features
Nouvelís custom designed bathrooms strike a balance of discretion and boldness. Richly veined, spacious stone countertops, stone tiled walls, and a soaking tub all combine to establish a sanctuary of repose.
Freestanding Ago soaking tub by Antonio Lupi
Steam shower in master bath
Master baths with Calacatta Gold and Zeus marble marquetry flooring, custom floating wood vanity with Calacatta Gold counter, slab walls, and concealed medicine cabinet
Vola fixtures
Secondary baths feature Sugar Gold stone floors and a Sugar Gold vanity
Powder room features Verti Capri stone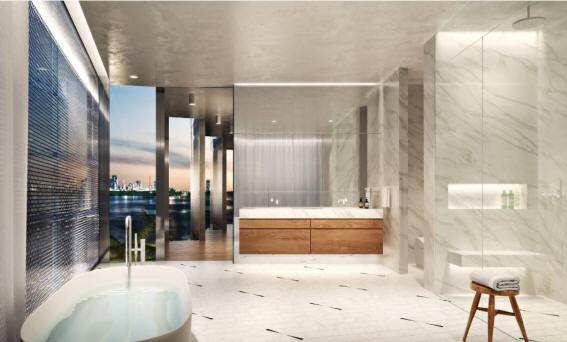 Monad Terrace Miami Beach Condo Floor Plans

Monad Terrace Miami Beach Condo Association
Management Office
1300 Monad Terrace, Miami Beach, FL 33139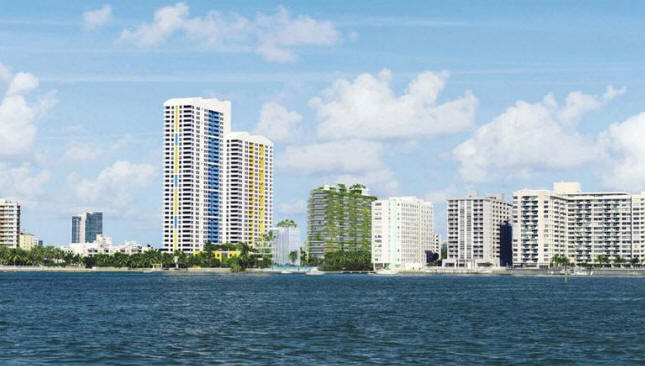 Monad Terrace Miami Beach Condo - Developer Rendering Subject to Change
Location for Monad Terrace Miami Beach Condo
Oral representations cannot be relied upon as correctly stating representations of the developer. For correct representations, make reference to the documents required by Section 718.503, Florida Statutes, to be furnished by a developer to a buyer or lessee. This offering is made only by the Developerís Prospectus for the Condominium. Philippe Diener LLC is not related to, affiliated or associated with, or a partner in the business of the Developer, or any of Developerís affiliates or related persons. Consult the Prospectus for all terms and conditions of purchase, specifications of what is included with purchase, the associationís operational authority, duties, rights and estimated budget, and Unit dimensions.