MEET THE TEAM
WHAT OUR TEAM OFFERS YOU
Over 20 Years Combined Experience in Miami Luxury Real Estate

Top Producers

3 Licensed Real Estate Consultants will service your property

Multi-Lingual: English, Spanish, Arabic and Italian

Leaders in Online Marketing - www.DienerProperties.com - Top Ranking Website in all Major Search Engines for Brickell Condos

Over 500,000 Visits over a 12 month period

Over 85% of individuals start their real estate search online as per the National Association of Realtors

Local & International Presence
3 licensed real estate professionals working for you, paired with a powerful online presence and the leading luxury Real Estate market position of Avatar Real Estate Services, we will maximize your Brickell condo exposure to national and global audience while offering local expertise.
We invite you to contact us for a free, no-obligation and confidential meeting to discuss your Real Estate needs.
---
Iman Al Ajlani is currently a member of the Avatar Real Estate Services Realtor team based in Miami's Brickell Area.
---
Wilfredo Daniel is currently a member of the Avatar Real Estate Services Realtor team based in Miami's Brickell Area.
---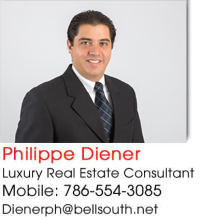 Philippe Diener is currently a member of the Avatar Real Estate Services Realtor team based in Miami's Brickell Area. Prior to joining one of the most successful high end Real Estate companies in Miami, Philippe worked for 2 years at Engel and Voelkers in Miami. Before Engel and Voelkers, he was an agent for 3 years at EWM Realtors®. During that time, he became a Top Producer which earned him a place in the coveted Chairman's Club – Emerald Level. Before EWM Realtors®, Philippe owned and operated for 4 years his own real estate brokerage located on Brickell Key Island. Together with two partners, the brokerage employed over 15 agents with an average yearly sales reaching $35 million.
By combining all his experience and knowledge, over the past 8 years Philippe has personally developed, maintained and continues to grow one of the most comprehensive and recognized real estate websites for the South Florida Real Estate Market. He implemented and expanded the geographic coverage of the website into markets within Miami-Dade, Broward and Collier Counties including areas like: Brickell, Coral Gables, Coconut Grove, Miami Beach, Aventura, Sunny Isles, Hollywood, Las Olas, Weston and Naples.
Over the past years in dealing directly with the South Florida markets and studying their ever-growing and changing communities, he has accomplished many of his career objectives by providing his customers with the necessary tools and knowledge for successfully investing in Real Estate. As a former business owner and real estate agent with over 8 years experience, Philippe offers each of his clients the business savvy, strong negotiating skills paired with the utmost level of professionalism that they need to navigate their way into making effective real estate investment decisions.

---
About Avatar Real Estate Services
At Avatar Real Estate Services Miami you will find an elite team of professional sales agents focused on servicing South Florida's most exclusive clientele and neighborhoods. Not only do we use innovative marketing, technology, and discretion to effectively service the South Florida market, we also maintain our national and international reach through constant networking with our clients and offices throughout United States and worldwide.
Avatar Real Estate Services was founded in 2002
 by an elite group of South Florida Real Estate professionals whose valuable personal connections, extensive industry experience, market savvy and impressive sales records launched the brand recognition you see today. The partners understood the importance of maintaining a boutique firm that possessed both the intimate knowledge of South Florida's luxury real estate market as well as the necessary global connectivity to optimally showcase our international gateway region. Today, Avatar's depth of experience in development, marketing and sales of luxury homes in South Florida is unsurpassed. In addition, Avatar Real Estate Services offers an array of related services tailored to the individual needs of our distinguished clientele.
Avatar Real Estate Services - Mission
Our Mission is to provide every client with a first-class experience. Whether buying, selling or leasing, our unsurpassed service, sophisticated sales strategies and unmatched expertise makes Avatar Real Estate Services the right choice. In keeping with our Mission, each accomplished, well-connected Avatar Realtor Associate takes great pride in their working relationships, integrity and discretion as they cornerstone our firm's beliefs in doing the right thing for all parties involved – each time, every time. We are prepared to help you sell or buy – come experience the difference. No one cares more than we do...give us the opportunity to show you.
As one of the most recognized luxury real estate brands in Miami, we are a top-tier provider of both residential and commercial services and as a trusted source of real estate market news and trends on a global scale. Among clients who have truly experienced the Avatar Real Estate Services brand, we also represent a world of culture, sophistication and an appreciation for the art of living.
A luxury real estate boutique firm, Avatar consistently sells more luxury properties proportionate to larger firms throughout South Florida. Experts in the purchase and sale of high-end homes and condominiums, Avatar Real Estate Services accomplished team of sales professionals offer unparalleled market knowledge, coupled with customized and innovative multi-faceted marketing resources, to create sophisticated sales strategies Renowned for their stellar experience, marketing expertise and consummate professionalism, Avatar Sales Associates possess the polished credentials required and the extensive marketing resources necessary, for success in the ultra-competitive, ever-changing luxury real estate market.