Krystal Tower - Residences
Krystal Tower is a collection of approximately 153 residences arranged across 35 floors in the heart of downtown Miami. Designed with open floor plans and minimal interior walls, residences range from 907 square feet to 1330 square feet. All residences will offer commanding views of downtown skyline and/or Biscayne Bay, with unrivaled proximity to connections for transportation, entertainment, shopping, culture and more.
Krystal Tower - Building Amenities
- Designer building
- Valet service
- Ample guest parking
- Elegant lobby, with aquarium
- Pet-friendly environment
- 24-hour front desk / concierge service
- 24-hour on-site security
- Sky lounge on the 34th floor
- Exclusive clubhouse for residents only
- Contemporary art and furnishings
- Panoramic city-wide views
- Bar and kitchen with refrigerator, microwave, sink and dish washer
- Rooftop pool deck
- Jacuzzi inside pool ē Panoramic city-wide views
- Fire pit
- Poolside bar
- Fitness center with state-of-the-art equipment, and yoga studio
- Plush theatre with ample room for a party
- Childrenís playroom
- Large storage lockers available for each unit
- Bicycle storage on the ground floor with access through the lobby
- 5,500 sq ft of retail space on the ground floor
Krystal Tower - Unit Features
- Spacious floor plans
- Italian designer kitchens and bathrooms
- High-end stainless steel appliances
- Porcelain tile floors
- Private terrace in every unit
- Floor-to-ceiling windows
- Stunning views of Biscayne Bay and gorgeous city skylines
- Delivered fully finished
Krystal Tower - Location
Close to Biscayne Boulevard, Bayfront Park, and the waters of Biscayne Bay, and adjacent to the Miami Riverfront, Krystal Tower is located in the absolute epicenter of downtown Miami. Here, the worlds of law, government, retail, jewelry, fashion, education, international cuisine, nightlife, come together in Miamiís original urban environment. As well, Krystal Tower is on the leading edge of artistic expression and entertainment with its prime location just steps from the Gusman Center for the Performing Arts, Bayfront Amphitheatre, and the American Airlines Arena, home to the 2012 champion Miami Heat - from world-renowned concerts to intimate events and shows, to championship level sports and seasonal festivals, Krystal Tower is at the crossroads of whatís new and happening in Miami.
From its downtown location, Krystal Tower also offers unparalleled access to Government Center and the Courthouses, the jewelry district and the historic Seybold Building, and the thriving shops and nightlife of Bayside and the Biscayne Corridor and top performances at the Arsht Center for the Performing Arts. And, with convenient proximity to the MetroMover and Metrorail. Krystal Tower presents the chance to connect with all that makes Miami great.
Krystal Tower - Design
Krystal Tower is the latest innovation to city living. With its clean lines and modern materials, Krystal Tower is a natural addition to Miamiís contemporary skyline. Yet, at the same time, its footprint and urban street front position are made more accessible by the architecture of Glidden Spina + Partners. Light, open, airy residences are highlighted by high ceilings and a host of high-end finishes befitting an all-new building in Miamiís thriving city center.
Krystal Tower Condo in Miami, Fl.
Krystal Tower Condo is a residential high-rise complex in the Downtown Miami area of Miami, Florida. The project will consist of a high-rise residential tower and will be located on 530 NW 1st Court. Krystal Tower Condo will have 35 floors and 153 total residences.

Krystal Tower - Lifestyle
The Downtown District comes to the forefront of international business and luxury living. Desire for waterfront property and Miami Downtown's emergence as Miami's cosmopolitan center has experienced considerable development and even grander plans for the future. Certainly the significance of being the second largest booming international financial center in the United States will further stimulate Miami's entire downtown area and lure new residents and business alike. Downtown Miami condos rising above the beautiful waters of Biscayne Bay is one of the most unique and identifiable skylines in the world. The luxury condominiums that line Biscayne Bay provide an incomparable life of luxury to their residents.
Living in this exclusive and sought-after location, you will experience the best that life has to offer. From fine dining and shops to tree-lined streets where you can stroll, jog or simply enjoy the natural surroundings that Downtown has to offer. Ideally and centrally located, Downtown Miami is located just minutes from Miami International Airport, Coral Gables, Coconut Grove and Miami Beach.
Krystal Tower Condo Floor Plans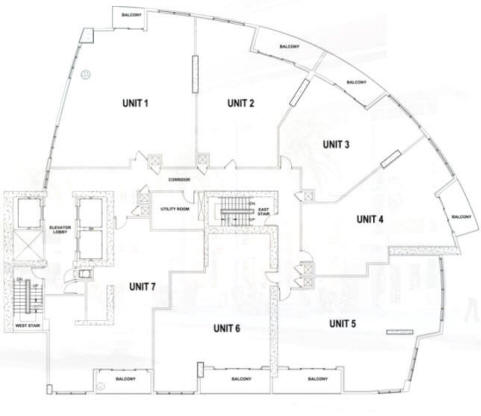 disclaimer - IMPORTANT NOTICE - Information contained in this web site is believed to be accurate BUT NOT GUARANTEED Oral representations cannot be relied upon as correctly stating representations of the developer. For the correct representations, make reference to the purchase agreement and to the documents required by 718.503, Florida Statutes, to be furnished by a developer to a buyer or lessee. The sketches, renderings, floor plans, graphic materials, feature plans, condos for sale, and specifications described herein are proposed only, and the Developer reserves the right to modify, revise, or withdraw any or all of the same in its sole description and without prior notice. Without limiting the generality of the foregoing, Developer reserves the right to substitute any of the foregoing with items of similar or better value, in Developerís opinion. Oral representations cannot be relied upon as correctly starting the representations of the Developer. For correct representations, make reference to the documents required by Section 713.503, Florida Statutes, to be furnished by the Developer to a buyer or lessee.