Kai at Bay Harbor - Information
Kai's elegant design boasts large balconies and a rooftop terrace with a lap pool, sun deck and plenty of space for entertaining and leisure activities. Residences are spacious with an open plan living and dining area with direct access to terrace and balconies. Its distinct façade depicts astonishing glass-enclosed balconies all around the structure—a sight almost as dazzling as the view of the Canal one can enjoy from the units. With only 7 floors and 57 residences, Kai at Bay Harbor is best described as a boutique domicile, worthy of the most exclusive lifestyle. Staying true to its boutique fashion, Kai at Bay Harbor features innovative architecture and design. It portrays picturesque interiors and invigorating terraces. From a refreshing pool deck and swimming pool to European-style cabinetry, there is always something exquisite to admire, such as the dazzling views to the canal from the units. Design is the main character of the residences with marble floors and luxurious Jacuzzis in bathrooms. Polished granite countertops and top-of-the line equipment adorn and set the artistic tone of the kitchens.
For the fitness enthusiast, a fully-equipped fitness center has everything needed to stay in shape without leaving the comfort of home. Living at Kai Bay Harbor is a truly unique experience, where residents can enjoy 5-star amenities.
Kai at Bay Harbor Condo - Amenities
Innovative architecture and design
Pool deck and swimming pool
Exterior lounge areas
Fully-equipped fitness center
Front desk attention 24 hours a day
Marinas
Kai at Bay Harbor Condo - Residence Features
European-style cabinetry
Polished granite countertops
Top-of-the line equipment in the kitchens
Marble floors and luxurious Jacuzzis in bathrooms
Astonishing glass-enclosed balconies all around the structure
Amazing water views from the Units
Kai at Bay Harbor Condo Floor Plans
Level 3 Floor Plans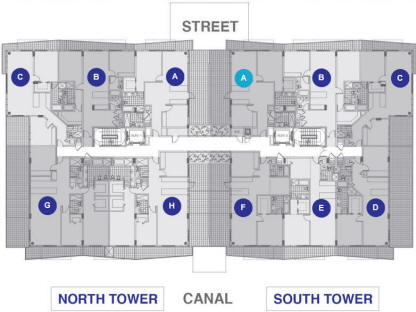 Levels 4 & 6 Floor Plans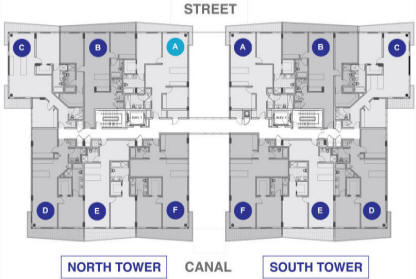 Level 5 Floor Plans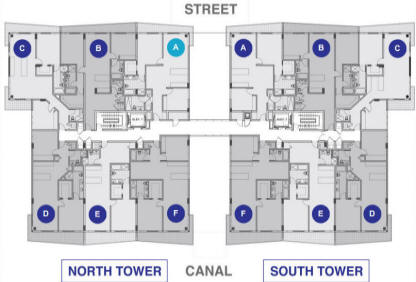 Level 7 Floor Plans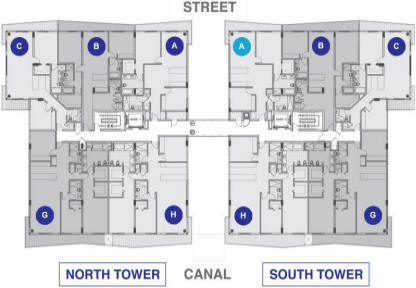 Kai at Bay Harbor - Living in Bay Harbor Islands
Bay Harbor Islands is a picturesque town located in Miami, Florida Incorporated in 1947, it has since flourished into a vibrant community. Consisting of two islands: the west with single family homes and the east island with multi family apartments and a varied business district. This waterfront enclave is surrounded by Biscayne Bay and borders the towns of Surfside, Indian Creek and Bal Harbour. The town is home to many street side cafe's and shops as well as professional offices. Furthermore, it is the home of one of South Florida's premier schools: Ruth K Broad Bay Harbor K-8 Center.
Bay Harbor is walking distance from the renowned Bal Harbour Shops, and the beautiful beaches along Collins Avenue. Bay Harbor is about 30 minutes driving distance from the Miami International Airport and is centrally situated between Aventura and South Beach.
Kai at Bay Harbor - Community and Surrounding Area
Exclusive and tranquil Bay Harbor community Restaurant and outdoor cafes Retail shops, beauty salons and convenience stores Medical and professional offices on Kane Concourse Bay Harbor Police Department Walking distance to Bal Harbour Shops and beach Nearby tennis courts and children's playground Dog recreation and exercise parks Ruth K Broad K-8 School 30 minutes from Miami and Ft. Lauderdale Airports Centrally located between Aventura Mall and South Beach entertainment
Kai at Bay Harbor - Condo Location
Bay Harbor is a vibrant community centrally located between South Beach and Aventura, with easy access to other major attractions in the Miami Beach area and Miami International Airport. Kai is located in the beautiful island setting of the exclusive Town of Bay Harbor Islands. This amazing project offers all the necessary amenities emphasizing privacy and comfort. Residents can walk or ride their bicycles to the nearby beach, enjoy the island's cafe's or stroll to Bal Harbour Shops and the Surfside shopping district.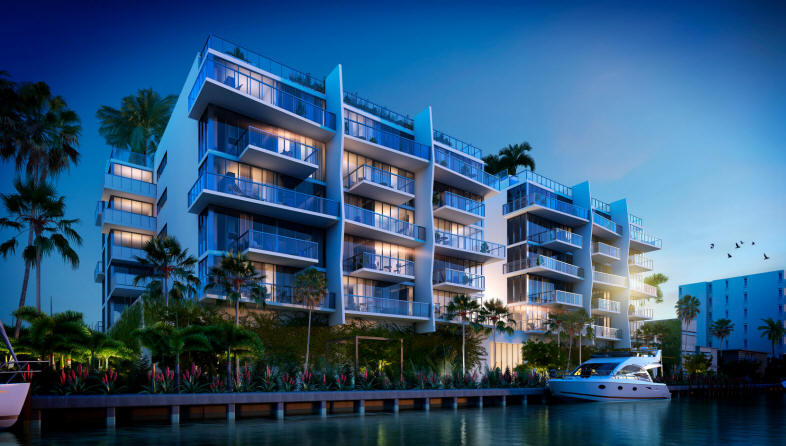 Kai at Bay Harbor
Location for Kai at Bay Harbor Condo

View Kai at Bay Harbor in a larger map
Request More Information about Kai at Bay Harbor
| | |
| --- | --- |
| Building Name: | |
| Address: | |
| * Name: | * Required Field |
| * Email: | * Required Field |
| Telephone: | |
| Cellular: | |
| Best Time to Contact: | |
| Best Way to Contact: | |
| I'm Looking To: | |
| Questions or Comments: | |
By submitting this form with your numbers you are consenting to be contacted even if your name is on the Federal Do-Not-Call List
Available Kai at Bay Harbor condos for Sale or Rent Kai at Bay Harbor Location