Isles at Grand Bay Executive Estates Home Floor Plans
* Plans and elevations are artist's renderings and may contain options, which are not standard on all models. Lennar reserves the right to make changes to these floor plans, specifications, dimensions and elevations without prior notice. Stated dimensions and square footage are approximate and should not be used as representation of the home's precise or actual size. Any statement, verbal or written, regarding "under air" or "finished area" or any other description or modifier of the square footage size of any home is a shorthand description of the manner in which the square footage was estimated and should not be construed to indicate certainty. Lennar reserves the right to change or withdraw any offer at any time. Prices subject to change without notice.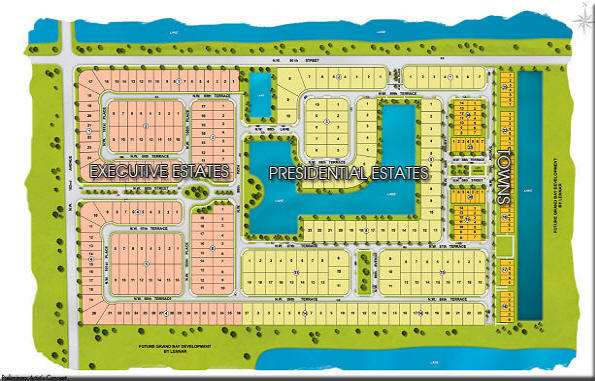 General Features
Quality Concrete Block Construction
Spanish S-Style Concrete Tile Roof
Impact Resistant Windows and Doors on Entire Home
Brick Paver Driveway, Entry Walk and Patio
Sherwin-Williams® Exterior Paint in a Choice of Decorator Schemes
Insulated, Hurricane Resistant Steel Garage Door with Simulated Wood Grain Accents
Automatic Garage Door Opener with Keyless Entry and Remotes
Designer Landscaping and Fully Sodded Homesite
Automatic Sprinkler System
Elegant Covered Entries with Fiberglass (per plan)
320 AMP Electrical Service
Decorative Coach Lights
Exterior Hose Bibbs
Front Door Chime
Interior Features
Alarm System with Siren, Motion Detector and Two Keypads

Dramatic 9' Ceilings in Main Living Areas (per plan)

Minimum 13 SEER High Efficiency Air-Conditioning and Heating System

Plush Stain Resistant Carpet with Upgraded Padding in a Choice of

Designer Colors

18"x18" Ceramic Tile in Foyer, Kitchen, Family Room, Dining Room, Living

Room and Laundry Room in Choice of Designer Colors

Home Automation with Nexia
TM Home Intelligence

Wireless Keypad Lock

light Module

Programmable Thermostat for Central A/C and Heating System

Camera

light Textured Walls and Ceilings in All Areas Excluding Bath Walls

Decora® Light Switches Throughout

Sherwin-Williams Quality Paint on all Walls and Ceilings

Deluxe 5 1/4" Baseboard and Upgraded Casings Throughout

Category 5e Structured Wiring for Phones/Computer/Fax Lines in all Bedrooms, Kitchen and Family Room, Home Run to Central

Distribution Box

RG6 Shielded Coaxial Television Cable in all Bedrooms and Family Room,

Home Run to Central Distribution Box

Pre-Wired for Ceiling Fans in all Bedrooms and Family Room

Vinyl Clod Ventilated Closet Shelving

SPECIAL FEATURES
(Selected Models Only - See New Home Consultant)

Paint Grade Top Mount Wood Spindle Stair Rails

Single Lite French Doors

Coffered Ceilings

Decorative Art Niches
KITCHEN FEATURES

GE® Profile Stainless Steel Appliance Package featuring:

25 cu. ft. Side-by-Side Refrigerator with Ice and Water in Door

30" Drop-in Cooktop

Built In Double Oven (one with Convection)

Built In Microwave with Recirculating Fan

Energy Efficient 5 Cycle Dishwasher

Upgraded 42" Upper Wood Cabinets with Crown Molding in Choice of

Colors with Brushed Nickel Hardware

Granite Kitchen Countertops with 1_1/411 Square Edge With Choice Of

Decorative Glass Tile, Tumbled Marble or Full Granite Backsplash

Stainless Steel Double Bowl Undermount Kitchen Sink

Moen® Kitchen Faucet

Y2 Horsepower Food Waste Disposal System

Recessed Hi Hat Lighting

Wood Cabinet Storage Pantry

MASTER BATH AND SECONDARY BATH FEATURES
Upgraded Granite Counter Tops with Undermount Sinks in Master Bath

Decorative Moen® Wide Spread Faucets in Master Bath

Acrylic Garden Tub with Whirlpool Jets in Master Bath

Separate Stall Shower with Frameless Glass Enclosure in Master Bath

Decorative Listello Tile Accent in Master Bath

Adult Height Wood Vanities in all Bathrooms

Elegant Cultured Marble Countertops in Secondary Baths

Decorative Moen Faucets in Secondary Baths

Vikrell Enameled Bathtub in Secondary Baths

Full Vanity Width Mirrors in all Baths

Elongated Toilets in all Baths

Decorative Mirrored Medicine Cabinets in all Baths

1211x1211 Ceramic Tile Flooring in all Baths

Exhaust Fans in all Baths
LAUNDRY ROOM
18"x18" Ceramic Tile Flooring

GE Extra Large Capacity Washer

GE Extra Lorge Capacity Dryer

Cabinets Above Washer and Dryer
Isles at Grand Bay Executive Estates is considered by many to be the more tranquil place to live in Doral Florida. The fact that the majority of the community is reserved for lush vegetation that provides amazing scenic vistas is only part of the reason this residential community has remained so natural and appealing. Isles at Grand Bay Executive Estates is an exclusive gated and secured luxury community that you will look forward to coming home to. Exclusive gated community conveniently located in Doral. Isles at Grand Bay Executive Estates's unique and romantic architectural design immediately stands out from everything else you have seen in Doral.
About Isles at Grand Bay Executive Estates and the City of Doral
Doral is a city located in north-central Miami-Dade County, Florida, United States. A suburb of Miami, it lies north-west of Miami International Airport. It takes its name from the famous golf and spa resort located within its municipal boundaries. The Doral Golf Resort & Spa was originally built by Doris and Alfred Kaskel, who coined "Doral" by combining their names. The City of Doral was incorporated along with Miami Gardens in 2003. As of the 2000 census, the population was 20,438. According to 2009 U.S. Census estimates, the city had a population of 46,000 making it one of the fastest growing cities in Miami-Dade County. For a city of its size, Doral has a large number of shops, financial institutions and businesses, especially importers and exporters, primarily because of its proximity to the Miami International Airport. In 2008, Fortune Small Business and CNN Money ranked Doral as 51 on a list of 100 cities with the best mix of business advantages and lifestyle appeal.
History of the City of Doral, Florida
From Everglades to Industrial Center to Hometown - The City of Doral (Based on information provided by Ciudad Doral article written by Cindy Rodriguez-Pereira)
1950-1980 In the late 1950s, real estate pioneer Alfred and Doris Kaskel purchased 2,400 acres of swampland between NW 36 Street and NW 74 Street and from NW 79 Avenue to NW 117 Avenue for about $49,000 with the intention of building a golf course and hotel. In 1962, the Kaskel's dream came true when they opened a hotel and country club that featured the Blue, Red and Par 3 golf courses. They named it Doral - a combination of Alfred and Doris.
According to a story in The Miami Herald, Alfred was born in Poland and migrated to New York when he was 21 years old and became a real estate developer. His first project was building 15,000 apartments in New York. After marrying Doris, the Kaskels moved south and built the Doral Beach Hotel and the Carillon Hotel on Miami Beach. Once the Country Club was built, guests were transported from the Beach to the Country Club for a day on the golf course. As Doral's very first structure, the Doral Hotel and Country Club became the area's hot spot. In the second year of operation, the Kaskels hosted the first Doral Open Invitational, Florida's major PGA event. Alfred offered $50,000 in prize money to attract well-known golfers. To put it in perspective, according to the South Florida Golf Foundation, there were only three other tournaments being held in Florida at the time with a combined total of $65,000 prize money.
Today, the Doral Golf Resort & Spa, located at NW 87 Avenue and NW 36 Street, is internationally famous for its golf courses, especially the Blue Monster, and still hosts the PGA Tour Tournament every year. The Spa, originally called the Saturnia International Spa, was added to the Resort in 1987 and is ranked as one of the top spa destinations in the US and the largest in the state of Florida. 1980-2000 By the early '80s, Doral started to experience the first spurts of growth when Alfred's and Doris' grandson Bill developed Modern that was followed by a joint venture with Lennar Homes to build Doral Park. Both communities were named after the Hotel, a trend that was to be repeated many more times.
Younger families started flooding the area but had to travel to purchase even the most basic essentials, because there were no stores - or schools or parks. Although the majority of the original homes were investment properties or second homes, the early fulltime residents believed that the quality of life and the low housing costs far exceeded the lack of amenities and started coming together as a community. Traffic problems were nonexistent, except for the occasional escaped cow. There were more farms with cows, horses and chickens that people on NW 107 Avenue; NW 87 Avenue was just two lanes and NW 41 Street ended at NW 104 Avenue. From 1983-85, the county imposed a building moratorium for the area to protect the well fields. Once the ban was lifted, Doral experienced tremendous growth. The West Dade Federation of Homeowner Associations was formed in 1989 under t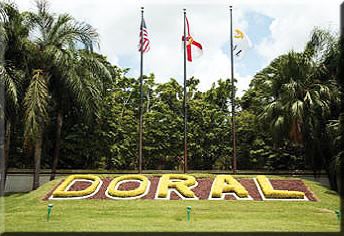 he leadership of Morgan Levy to stand strong against any proposals that threatened the community's welfare. As a result of their efforts, a police station instead of a jail was built, higher development standards were implemented, and more lighting, roads and landscaping appeared in the area.
Incorporation began in earnest in 1995 with the realization that residents were paying a very high price for services received; they wanted more services at a reasonable price. The County met the first attempt at incorporation with a year's deferral. Doral had been classified as a "donor community," meaning that the taxes paid were more than the cost of operations. With the defferal, incorporation efforts intensified even more. The County was allowing unchecked growth that was detrimental to the residents. In 1996, the first election of the Community Council was held and soon-to-be County Commissioner Jose "Pepe" Cancio, Sr., Mario Pita and Barbara B. Thomas were elected and three other members were appointed. The Council met every month to work on different projects and to address the needs of the community.
2000-Present In 2002, the Governor appointed Cancio to fill the remainder of Commissioner Miriam Alonso's term of office; she had been suspended after an arrest on felony charges. Doral residents hoped that his appointment would be the impetus to bring the community closer to incorporation, and Cancio did not let his community down. In the meantime, Cancio named Juan Carlos Bermudez, the City of Doral's first elected Mayor, as his replacement to the Community Council. Bermudez declined the offer and ran for the seat and was elected. At the time, Bermudez was president of One Doral, a civic organization formed to counteract the perceived influence of the West Dade Federation on the Council. The Miami Herald reported that Bermudez intended to create a transparent government in Doral by bringing a balance to the table. One Doral and the West Dade Federation were instrumental in the incorporation process.
In January 2003, following a seven year battle, 85% of the voters in Doral voted in favor of incorporation. At long last, they had their own new city with a local government and more service for their tax dollars. In June of the same year, 92% voted to accept the City Charter and elected their first Mayor and City Council - Mayor Juan Carlos Bermudez, Vice Mayor Pete Cabrera, and Council Members Mike DiPietro, Sandra Ruiz, and Robert Van Name. In August, the City Council took their oath of office. In 2002, the KSL Hotel Corporation, the company now operating Doral Golf Resort & Spa, filed a lawsuit against Hotel Intercontinental for using Doral in its name. They also wanted the new City to pay $1,000 a month for 22 years for use of the name Doral. The elected officials went to bat and the Resort agreed not to charge for the name usage. The Hotel also reached an agreement and changed its name to Intercontinental at Doral Miami. The City of Doral has come a very long way in a very short time and is attracting positive attention from Fortune 100 corporations, mom-and-pop businesses, young families and retirees. More and more people are choosing Doral every day - For all the right reasons!