The Granada Park Condo Coral Way - is located along side Coral way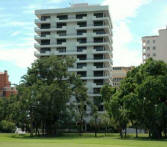 in Miami Florida - Coral Way is a primarily east-west street that begins in downtown Miami, Florida. The eastern terminus is at Brickell Avenue (U.S. Route 1) in the downtown Miami Financial District. It is Southeast 13th Street (SR 972) from Biscayne Boulevard west for one block until it crosses Miami Avenue, where it becomes Southwest 13th Street. It is a 2-lane dual direction main road in downtown Miami from Brickell Avenue until it crosses Broadway (SW 15th Road) and curves to the southwest as is goes under I-95. At this point it becomes a 4-lane divided road (Southwest 3rd Avenue) with many old fichus and banyan trees in its median. This is where the historic scenic drive of Coral Way Miami begins.
After crossing Segovia Street, it borders the Granada Golf Course for two blocks until it enters a residential area after crossing South Greenway Drive/Anderson Road. From this point west it is covered by large oak, mahogany and other hardwood trees which form a natural canopy from each side of the road.
Granada Park Condo Coral Gables - Building Amenities
• Spectacular open floor plans
• City and golf course views
• Fitness center
• Swimming pool on recreation deck
• Enclosed parking
• Building and parking security access controls
• 24 hour on-site security
• Concierge