Information about Eighty Seven Park Miami Beach
At the edge of the city, Eighty Seven Park is more than a building, it's a landmark. On the beach, above a newly invigorated park, its 70 villas seem to defy gravity, reaching out to embrace the elements. At this narrow point of Miami, water is everywhere. Yet, with easy connections to South Beach and Bal Harbour, this coastal sanctuary offers all the benefits of life in one of the world's most dynamic cities. Developed in collaboration with master architect and Pritzker Prize laureate Renzo Piano, Eighty Seven Park blurs the line between imagination and knowledge.
Space. It's something we all crave. At Eighty Seven Park, it's a commodity that can be found in abundance, inside and out. As the building blooms, towards the penthouse 16 decks up, it maintains a radiant presence in the neighborhood; the east/west orientation and the almost impossibly light cantilevered balconies sketching a gentle new outline on the Miami Beach skyline. Nature is woven into the very fabric of the building. In each generously appointed villa, the grains of American oak, the flecks in Italian stone and the translucence of picture windows merge interior and exterior spaces into one beautiful whole. In the residents' gardens, the ocean, the park and the city come together in an urban eden. In the lobby, home to the residents' bar and lounge, contemporary furniture and local flora calm the senses. Outside, the shimmering blues of swimming pool and ocean dazzle the eye. There's space to breathe, room to think, time to be, right here on Miami's golden sands.
With new entertainment and shops being developed in the area - Miami Beach and South Beach neighborhoods, Eighty Seven Park promises to be the place to be either as your primary residence or for second home. The Eighty Seven Park condo located in heart of Miami's South Beach district will offer buyers and investors a residential opportunity with luxurious amenities. The Eighty Seven Park condo is located at 8701 Collins Ave just steps from the well-renowned Miami Beach. The building will feature condo floor plans with 1 to 4 bedroom residences and penthouses. The Eighty Seven Park units range from approximately 800 to over 8,000 square feet spanning over different floor plans. Fasano, Brazil's most celebrated hospitality and gastronomy firm, is expanding its world-renowned brand to include the first ever Fasano hotel in the US at Shore Club Miami Beach. Situated in the heart of South Beach, the 3-acre oceanfront Fasano Hotel + Residences at Shore Club will feature seventy-five luxury condominium residences and a hotel complex designed by award-winning Brazilian architect, Isay Weinfeld.
Eighty Seven Park Miami - Indoor and Outdoor Amenities
Concierge & Butler Service: At Your Service, is based on developing a personal, face-to-face relationship, providing a variety of services/requests tailored to the needs of each resident. Each resident will have access via their iPhone and/or iPad to reserve and request different specialties/ accommodations. The person(s) will develop a personal knowledge of each resident, greeting them daily upon arrival by name and understanding their regular schedule, likes and dislikes.

Enoteca: The essence of a wine cellar is recreated whereby residents can either stop in for a quick glass from their favorite vineyard, host an intimate wine tasting with selections made by their personal sommelier with perfectly paired canapés, or order their next week's supply of wine for their home. A relaxed yet decadent atmosphere.

Library: A small and intimate setting provides a comfortable retreat and escape from the daily digital world.

Soul Center Spa: Offering much more than just a gym, it will provide wellness for the the mind, body and soul. The ultimate personal experience where residents feel the spa is uniquely theirs, to address their individual needs.

Private Garden: An outdoor celebration of the senses; whether it be listening to music or poetry, engaging in a Tai Chi session, visually experiencing the beauty of various flora and fauna, or the scent of roses — the park and gardens will invite all to engage in nature's aura.

Fugo Bar: An integral part of the owners daily routine; not just a juice bar but offering a grab n' go of specialty juices, a variety of small organic snacks and a light lunch/salad bar for when owners are on the run or looking for a quick break in the day.
Eighty Seven Park Miami - Residence Features
Unobstructed views to the ocean and North Shore Park
Private gardens
Natural stone finish options
Floor to ceiling glass
Expansive open floor plan layouts
Extra wide balconies and sundecks for exterior living
Summer kitchens
Italian cabinetry with glass doors
Natural stone countertops
American white oak veneer panels
Wolf Sub-Zero appliances
Electrolux washer and dryer
Zucchetti accessories and fixtures

Eighty Seven Park Miami - Key Facts
Eighty Seven Park Miami Beach Condo Floor Plans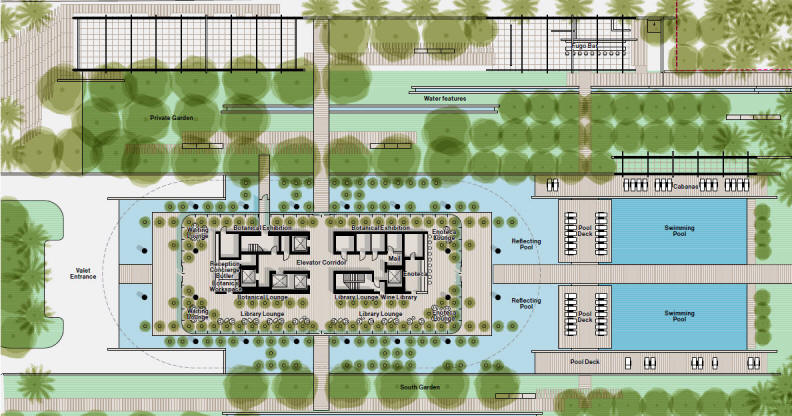 Levels 4-10
Model
Bed / Bath
Sq.Ft.
Living Area
Download
Floor Plan
Download Plans
Levels 4-10
Model
Bed / Bath
Sq.Ft.
Living Area
Download
Floor Plan
Download Plans
Levels 4-10
Model
Bed / Bath
Sq.Ft.
Living Area
Download
Floor Plan
Download Plans
Levels 4-10
Model
Bed / Bath
Sq.Ft.
Living Area
Download
Floor Plan
Download Plans
Levels 4-10
Model
Bed / Bath
Sq.Ft.
Living Area
Download
Floor Plan
Download Plans
Levels 4-10
Model
Bed / Bath
Sq.Ft.
Living Area
Download
Floor Plan
Download Plans
Eighty Seven Park Miami Beach Condo Association
Management Office
8701 Collins Ave. Miami Beach, Fl. 33139
Location for Eighty Seven Park in Miami Beach
Eighty Seven Park: Re Sales and Marketing
Nature photography: Ruvan Wijesooriya
Miami photography: Alex Majoli
RPBW photography: Fregoso & Basalto, Michel Denancé, Timothy Schenck
Eighty Seven Park - Miami Beach Condos Real Estate
Since the 1900s, Miami Beach has been famous for year round sun and fun. A vacation resort for the snow birds. Miami Beach is more than just sandy beaches and sparkling ocean. It is a cosmopolitan city which is home to numerous world-class restaurants, modeling, oceanfront condos, film and recording industries and pulsating nightlife. As the nations largest historic district, it boasts first rate cultural venues and an international mix of residents and visitors. World famous Ocean Drive or now referred to as Deco drive, is one of the busiest areas in Miami Beach. Deco Drive runs north-south, paralleling the beach, from 15th Street south to South Pointe Drive. Deco Drive is one of the most popular spots in 'South Beach'. It is famous for beautifully restored Art Deco Hotels, trendy cafes and nightclubs, Oceanfront Real Estate, and of course, "The Beach".
Lincoln Road, once known as one of the hottest shopping streets in the country, and known today as the cultural center of South Florida, is experiencing a retail rebirth. Lincoln Road is home to a 7 block pedestrian mall on a street stretching from the beach and Atlantic Ocean to Biscayne Bay. There are approximately 400 businesses within the commercial area.
Miami Beach Condo real estate has been refined from the past typical low rise Miami Beach Condo properties to spectacular high-rise condos starting in the $300,000 price range to over 5 million dollar mark.
The South Pointe drive area has a complete facelift from the developers of The Related Group. Their condo developments include: The Murano Grande at Portofino, The Murano at Portofino, and Icon. Other real estate properties on South Beach include The Yacht Club at Portofino, The Continuum, The Cosmopolitan Towers and The Waverly at South Beach.
Miami Beach Condo Market
Miami Beach has always been one of the most dazzling destinations on the East coast. Sunny skies, gorgeous beaches and glamorous ocean resorts have drawn millions of tourists here year round. Since the condominium concept became established as a carefree, luxurious lifestyle, condos in Miami Beach have been rising everywhere. In the last several years, high-rise residences are selling right off the architectural drawing boards.
The signal to buy Miami Beach condos started with low interest rates.
CLICK HERE TO SEE SOUTH POINTE CONDOS ONLY
Secondly, foreign buyers and "baby boomers" are yearning for a relaxed, more comfortable way of life. Blue skies and warm weather year round make Miami Beach a paradise on earth. All the stylish new real estate makes the picture complete. The scenery has even caught the attention of young people, who are buying Miami Beach condos up and down the beaches. The demand for Miami Beach condos has stirred real estate developers to be more ingenious than ever. From South Beach to Sunny Isles to Aventura, luxury sky condos have been completed and more are under construction and available at pre-construction prices. Top architects have designed ultra-luxury condos in every architectural style, from modern to more traditional with ocean views and lavish amenities. Miami Beach is going through an incredible transformation.
ORAL REPRESENTATIONS CANNOT BE RELIED UPON AS CORRECTLY STATING THE REPRESENTATIONS OF THE DEVELOPER. FOR CORRECT REPRESENTATIONS, MAKE REFERENCE TO THE DOCUMENTS REQUIRED BY SECTION 718.503, FLORIDA STATUTES, TO BE FURNISHED BY A DEVELOPER TO A BUYER OR LESSEE. This is not intended to be an offer to sell, or solicitation to buy, condominium units to residents of any jurisdiction where prohibited by law, and your eligibility for purchase will depend upon your state of residency. This offering is made only by the prospectus for the condominium and no statement should be relied upon if not made in the prospectus. Depicted is an artist's rendering which is subject to change. All plans, features and specifications are subject to change without notice. All depictions of matters of detail shown hereon, including, without limitation, items of finish, furniture and decoration, are conceptual only and are not necessarily included in the Unit. For a correct representation of the items included in the Unit, see the Purchase Agreement. Stated dimensions shown hereon are approximate are measured to the exterior face of exterior walls and to the center line of demising walls. This method of measurement varies from, and is larger than, the dimensions that would be determined by using the description and definition of the "Unit" set forth in the Declaration (which generally only includes the interior airspace between the perimeter walls and excludes interior structural components). Note that measurements of rooms set forth on this floor plan are generally taken at the greatest points of each given room (as if the room were a perfect rectangle), without regard for any cutouts. Accordingly, the area of the actual room will typically be smaller than the product obtained by multiplying the stated length times width. All dimensions are approximate and may vary with actual construction.