CORAL GABLES REAL ESTATE
See CORAL GABLES CONDOS for Sale or Rent See CORAL GABLES HOMES for Sale or Rent
History of Coral Gables Coral Gables Attractions
Whether buying downtown Coral Gables Condos or within the Gables area, Coral Gables condos for sale or rent are in abundance. Young couples and students choose renting a Coral Gables condominium while finishing school, or just starting a new job, or marriage. In addition, Coral Gables is just right for the winter visitors needing a condo for a few months and desiring lush, tropical living intermingled with an abundance of culture. Whether you have a lot to spend, or are on a budget, please allow us, the Coral Gables condo specialist assist you in finding the perfect condo for rent. Also known as The City Beautiful, Coral Gables, with it's blossoming real estate such as Gables by the Sea, Gables Estates, Cocoplum or Sunrise, boasts a vibrant business and cultural community set in a tropical, Mediterranean environment. Condominiums in Coral Gables are full of life with all of the foliage and wild life that South Florida can offer.
Dienerproperties.com is the best source for Coral Gables condominiums. Search for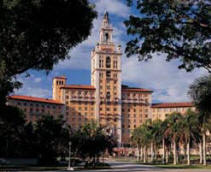 condos for sale or rent in Coral Gables, or for a more personalized experience, give Philippe, the Coral Gables Condo Specialist a call. For Coral Gables condos and homes, let the Gables area specialist assist you find your next real estate property within the City Beautiful.
Just south of downtown Miami lies beautiful Coral Gables, or simply "The Gables" as it's known to natives. This planned section of town is an oasis of quiet stately homes and upscale shopping and restaurants in the heart of Miami. If you're tired of South Beach and the downtown scene and are looking for some classy fun, take a trip to the Gables.
Coral Gables is built in the Mediterranean Revival style thanks to the work of James Deering on his estate, Villa Vizcaya. Deering built Vizcaya in 1914 using only authentic materials from Italy and Spain, as well as incorporating large pieces of real European castles that were dissembled, shipped here by boat and reassembled on site. Coral Gables began to take shape. Within four years of its conception, Coral Gables was incorporated in 1925.
Perhaps the greatest monument to the Mediterranean Revival style stands today- the Biltmore Hotel. Inspired by the Cathedral of Seville in Spain, it's tower today stands as a recognizable symbol to all Miamians. The hotel was erected in 10 short months and has not changed even its exterior color to this day. As a world-class hotel it brings visitors from the world over; natives fl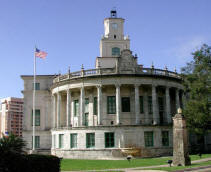 ock to the Biltmore to enjoy its spa offerings and beautiful coral pool. Located in the heart of Coral Gables, the University of Miami Hurricanes has a national reputation that has reached iconic proportions. Many young upstarts, whether attending the University or not, choose condos in Coral Gables. When living near the university, condo owners can easily enjoy the culture and excitement that the campus life offers. The University of Miami is a dynamic artistic community that includes the Jerry Herman Ring Theatre, the Bill Cosford Cinema, and Gusman Concert Hall. The nationally recognized Lowe Art Museum offers exhibits, permanent collections, and fine arts classes.
As the recession slowed building and real estate development, so The Gables stopped its growth in its prime. Unfortunately, the Mediterranean Style never regained its full strength and beauty. In the 1950s, Miracle Mile sprang up, a brick-paved section of road on Coral Way between LeJeune Road and Douglas Road. With its upscale boutiques and specialty stores it brought heightened commerce to the area and inspired more of the same kinds of shops to open their doors soon after. Today, special incentives are offered to builders and designers who design with the Mediterranean Revival style in mind.
By Renee Chapple
About.com
Coral Gables offers plenty to do within short driving distance of downtown Miami. From art and architecture to fine dining and shopping, make a day or weekend of Coral Gables and you won't be disappointed.
If you're interested in the Mediterranean architecture, make sure to visit Vizcaya. Built in the early 1900s, it stands today much as it did when it was built.Tours are offered daily. The Biltmore is also an unchanged tribute to Merrick's vision. While you can't visit the rooms, the grand lobby is truly impressive. Coral Gables City Hall is the city's most important publicly-owned building; make sure to stop in to see its distinctive portico and beautiful interior wall murals.
One sport is associated with Coral Gables: golf! The Biltmore Golf Course (1210 Anastasia Ave) is world famous and home to several PGA Tour events. This public golf course has the beautiful backdrop of the Biltmore, little water, a liberal walking policy, reasonable greens fees and is challenging enough for pros while being playable for beginners. The Grenada Golf Course (2001 Grenada Blvd) is a 9-hole golf course with no water hazards; it's not as challenging as the Biltmore, but this par 36 course is a more relaxing round and an exceptional value.
The Venetian Pool (2701 DeSoto Blvd) draws visitors from all over the world. Built in 1923 from a coral rock quarry, it is spring-fed and is surrounded by grottos, two waterfalls and coral caves. Fairchild Tropical Garden (10901 Old Cutler Road) is a beautiful day-long (at least!) retreat from reality. With its collection of tropical plants and flowers, palms, ferns and flowering vines, trails around lakes and through groves, mangrove forests, rainforest display and orchid display (among much else!) you'll have little time left for the shows, educational programs, bookstore and special events displays. Make sure you bring walking shoes and plenty of water! Coral Gables is in close proximity to Miami International Airport, Downtown, The Grove, Metro Zoo, and South Beach. With convenience, culture, and entertainment, a condominium in Coral Gables is ideal for a wide variety of people who do not consider beachfront living a necessity and desire the lush, tropical terrain that epitomizes South Florida real estate.
The shopping and dining can't be missed. Miracle Mile (Coral Way, between LeJeune Road and Douglas Road) and the Village of Merrick Park (LeJeune Road and Ponce de Leon Blvd) offer world-class boutiques, antiques, galleries and 5-star dining. The world's best restaurants can be found here in The Gables, including The Palm (Steakhouse & Seafood), Caffe Abbracci (Northern Italian), Pascal's on Ponce (New French), Miss Saigon Bistro (Vietnamese), and Norman's
Coral Gables condominiums are in close proximity to so many wonderful activities. The lush Mediterranean environment makes all of the locations in Coral Gables beautiful and exotic. Condominiums are near golf courses, parks, public tennis courts, 30 miles of waterways with abundant boating facilities, and probably the only swimming pool in the country on the National Historic Register - The Venetian Pool - a spring-fed grotto of native coral rock and underwater caves. When you buy a condo in Coral Gables, you are assured a healthy, natural, tropical atmosphere that is as unique to South Florida as the miles and miles of precious coasts and waterfronts. Coral Gables also offers acclaimed schools both public and private, state-of-the-art libraries, and a thriving business community. Coral Gables condominium living is close to several professional theater companies that offer a variety of productions throughout the year. The famed Miracle Mile and its surrounding downtown streets with their European-style outdoor cafes, provides residents, employees, business people and visitors with an enjoyable tropic shopping experience. Miracle mile has seen an exciting renaissance with new vintage style, hybrid electric trolleys leading the advancements, and many people are choosing to buy beautiful, luxury condos in this rejuvenated area.
As you can see, there is plenty for everyone to do in Coral Gables. If you are visiting Miami, make sure you leave time to see the beauty and tranquility of Coral Gables. If you live here, take advantage of all this area has to offer.