ENTER COCONUT GROVE CONDOS HOME PAGE ENTER COCONUT GROVE CONDO DIRECTORY
Brief History of Coconut Grove
The earliest settlers of Coconut Grove were the Pent and Frow families. In the 1830's both families were lighthouse keepers at Cape Florida and homesteaders in what is now Coconut Grove.
Another settler of that era was Edmund D. Beasley who homesteaded 160 acres bay front property. In 1873, after Beasley's death, his widow rented their home to Dr. Horace P. Porter. He lived there for only a year but during that time established a post office that he named "Cocoanut Grove." When Porter left the area, the post office was closed, but years later it was reopened using the same name.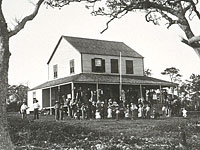 Historic photo of the Peacock Inn
He persuaded his brother Charles, then owner of a wholesale meat business in London, to join him. Charles Peacock, his wife Isabella and their three sons eventually settled in Coconut Grove and in 1882 opened the Bay View House, later called the Peacock Inn, the first hotel in the area. The Peacock Inn attracted all kinds of visitors including scientists, authors, and nobility, many of whom remained to make Coconut Grove their permanent home. Among the settlers were yacht designer and wrecker Ralph Munroe whose home, The Barnacle, is now a state historic site; homesteader Flora McFarlane, Coconut Grove's first schoolteacher and founder of the Housekeeper's Club (now The Woman's Club of Coconut Grove); and author Kirk Munroe.
The fledgling community grew and prospered, and by the early years of the 20th century, a school, library, Sunday school, chapel, and yacht club were built. Attracted by the climate, wealthy Northerners, such as James and William Deering and William Jennings Bryan made Coconut Grove their winter home. In 1925, the City of Miami annexed Coconut Grove, but it continued to retain its own identity.
As the population of South Florida mushroomed, Coconut Grove Real Estate continues to grow.
Grove Art
Coconut Grove, with its verdant landscape, serene bay front setting, and casual ambiance has always attracted artists. In the 1950's, artists from all over the US and as far away as Europe, settled in Coconut Grove and established studios. The Grove soon became known as an artists colony, and it was not unusual to see artists setting up their easels on the sidewalks and painting the local scene. By the 1960's there were many thriving art galleries as well as Grove House, an artists' co-op. In 1963, the Coconut Grove Arts Festival, now recognized as one of the leading arts festivals in the country, was established. Rising real estate prices in the 1980's and 1990's caused most of the galleries to close, but the artists have remained. In 1998, local artists formed The One Ear Society, a group that holds juried exhibits in donated spaces.
While much of the "old Grove" has disappeared, it is still possible to get a glimpse of what life was like in the past by visiting Villa Vizcaya, The Barnacle, and The Kampong, three vastly different Coconut Grove homes.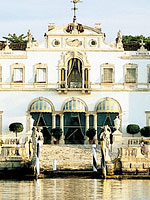 Villa Vizcaya as seen from the bay.
Villa Vizcaya, now a decorative arts museum set in the midst of magnificent formal gardens, was originally the home of International Harvester Vice President James Deering. Deering purchased the bay front property in 1910 and hired architect F. Burrell Hoffman, Jr. to design the house and an Italian Baroque farm village containing a dairy, poultry house, barns, garage, and staff housing. This village enabled Vizcaya to be entirely self-sufficient.
Deering traveled throughout Europe with interior designer Paul Chalfin purchasing furniture and works of art for the house. Construction began in 1914 and 1,000 craftsmen and artisans worked on the house for two years. Deering moved in on Christmas Day, 1916, arriving by yacht. All the furnishings Villa Vizcaya are just as they were in Deering's time, including such early 20th centuries amenities as a telephone switchboard, central vacuum cleaning system, elevators and fire sprinklers. Deering enjoyed nine winters at Villa Vizcaya before his death in 1925. Deering's descendants sold Villa Vizcaya to Miami-Dade County in 1952, and in 1970 it was placed on the Register of Historic Sites.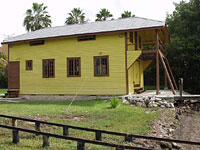 The Barnacle Coconut Grove in its current state.
The Barnacle
Built in 1891 by Commodore Ralph Munroe, The Barnacle is the oldest home in Miami-Dade County still on its original site.
Munroe, a native of New York City, moved to Coconut Grove in 1886 and made his living by designing yachts and working as a wrecker, salvaging boats that had run aground in Biscayne Bay. A year after he moved to the Grove, he founded the Biscayne Bay Yacht Club and was its Commodore for more than 20 years.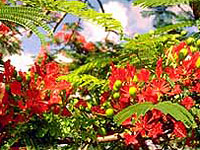 The Kampong contains an array of flowering trees and tropical fruit cultivars.
The Kampong
As Chief of the Seed and Introduction Section of the US Department of Agriculture, Fairchild traveled all over the world collecting plant specimens and bringing them back to his Coconut Grove home. Scientists and world leaders such as Winston Churchill, Richard Leakey, Henry Ford, Thomas Edison, and Dwight Eisenhower have visited the Kampong. Another visitor was Fairchild's father-in-law Alexander Graham Bell, who invented a device for extracting fresh water from sea water while staying at The Kampong.
© 2000 Donna Sweeny
Coconut Grove Real Estate Information
"The Grove" has been dubbed "the village with a rhythm all its own." A rhythm that is played out in tree-lined streets, scores of shops, restaurants and night-spots and a throbbing, upbeat street life that vibrates with a character all its own.
Coconut Grove may have changed since its days as a bohemian village populated by artists and radicals, but its zany charm and energy are as potent as ever. Located on Biscayne Bay just ten minutes south of Downtown Miami, The Grove is unlike any other neighborhood in Greater Miami and the Beaches.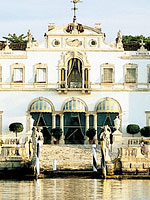 Coconut Grove was originally a Bahamian fishing village later settled by a few escapees from the frigid winters in the North. Over the years, this heavily wooded area sitting on a coral reef bluff some fifteen feet above sea level became the winter home to many artists and wealthy vacationers. Now Coconut Grove is one of the most desirable areas in all of Miami. Coconut Grove has seen its once small winter homes replaced by upscale single family estates and luxurious condos on Bayshore Drive across from Dinner Key marina.
Coconut Grove residents can visit Cocowalk to find exciting family entertainment, complete with restaurants, shops and movie theaters. Tourists may want to stroll through the historic Villa Vizcaya, or the Barnacle on Biscayne Bay, which is one of the oldest homes in Miami. Art lovers will want to explore the annual Coconut Grove Arts Festival- one of the largest art festivals in the nation. World class hotels, such as the Mayfair, Ritz-Carlton and the Sonesta, draw vacationers and visiting luminaries alike.
Coconut Grove, located on Biscayne Bay just ten minutes south of Downtown Miami, is unlike any other condo neighborhood in Miami. Luxury waterfront and ocean view condominiums flourish throughout this very secluded upscale mainly single family home neighborhood. Popular Coconut Grove condos include Grove Hill, Grove Isle, Grovenor House, Mutiny Park and the Ritz Carlton.
Sightseeing
Coconut Grove's waterfront parks offer the best vantage points for observing manatees, wildlife and the sailboats in Biscayne Bay. Dinner Key, originally the base for Pan American World Airways' seaplane flights from Greater Miami in the 1930s, now houses Miami City Hall — which was converted from the original hangar. Earlier Grove history is evident at The Barnacle, the 110-year old home of pioneer Commodore Ralph Munroe.
Festivals and street fairs such as the extraordinary Coconut Grove Arts Festival; the Coconut Grove Food and Music Festival (formerly Taste of the Grove); the Miami/Bahamas Goombay Festival and the Banyan Arts Festival, add to Coconut Grove's excitement.
Shopping
There's nothing dull about shopping in Coconut Grove: from motor-bikes to fine jewelry, antique books to gourmet foods, cutting-edge style to classic clothes — the specialty stores on the downtown streets offer an exhilarating range of merchandise. In both CocoWalk's open-air enclave and the Streets of Mayfair strolling zone, shopping is part of the total dining and entertainment experience. Look for stores featuring some of the best known names in retailing, and individually owned shops that epitomize sophistication and cool. And when the joys of shopping fade, you can head for one of the bars or restaurants and round it all off with a movie.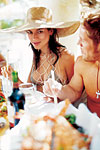 Dining and Night Life
Coconut Grove's variety and originality is reflected in the dining choices offered by its fine restaurants, themed eateries, sports bars and casual outdoor cafes. On the menu find French, Italian or Spanish-inspired cuisine; Mexican and American dishes and seafood. In the Grove eating out is always in good taste.
Night life revolves around fun and funky neighborhood bars livened up with jazz, salsa and reggae. Nocturnal pursuits focus on the Grove's favorite pastime of seeing and being seen.