Botaniko Weston Homes for Sale and Rent
See the most up to date inventory of Botaniko Weston homes and real estate for sale and rent. The links below will contain all the available listings with price information for the homes located at Botaniko Weston. The real estate inventory is updated daily.
Click on the links to access detailed information about the homes for sale and rent at Botaniko Weston. You will find all the real estate information including: price, real estate taxes, year built, location with map, property floor plan size, photo gallery, request a showing and more.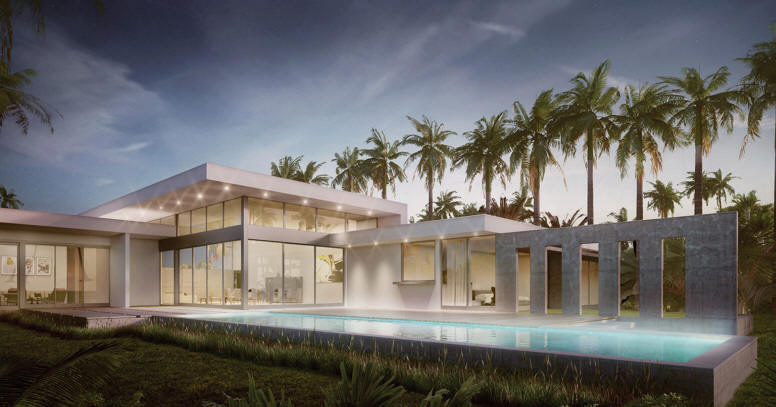 Botaniko Weston Real Estate is a hidden gem within South Florida
About Botaniko Weston Homes and Real Estate in Florida
Botaniko Weston is situated on 121 graciously landscaped acres, Botaniko Weston is a private enclave of 125 sophisticated homes designed for modern living. Groundbreaking architects Chad Oppenheim, FAIA, and Roney J. Mateu, FAIA, have created an idyllic setting where warm, modern homes live in perfect harmony with nature's serene surroundings. Abundant greenery unfolds around lakes and walking paths that bring nature to your door. As the area's most contemporary development, Botaniko Weston joins a pristinely planned community that is not only one of the most coveted in South Florida, but also a model for other cities to emulate. Safe, active, and family-oriented, Weston is the perfect place to live. Enjoy being surrounded by open green spaces to play and entertain, with a quality of life the whole family can enjoy.
Botaniko Weston - Exterior Features
Summer kitchen including outdoor grill, ice maker, sink, and under-counter refrigerator
Pool: approximately 20' x 40' with diamond brite finish including a black mesh baby barrier fence
Covered patios
Fully irrigated homesite with automatic sprinkler system
Driveway with pavers
Fully sodded and landscaped site
Aluminum impact windows
Waterproof sealant around exterior windows and doors
Botaniko Weston - Residence Features
32" x 32" porcelain tile or 24" x 24" Olympus white tile or porcelain wood planks in various sizes in foyer, living room, dining room, kitchen, breakfast, family room, powder room
Full security system with siren, motion detectors, and a front door security camera
Wall-to-wall engineered wood flooring in all bedrooms
Wood flooring on stairs and upstairs corridor
6" wood baseboards
Smart home ready
Advanced cable wiring in all bedrooms and family room
Advanced telephone high performance wiring in master bedroom and kitchen
Elegant interior architectural details
Full-size washer and dryer
Insulated ceiling and exterior walls
Programmable readout thermostat
Solid core flush panel interior doors with casing
Remote control garage door
Sherwin-Williams flat latex paint
Smoke/carbon monoxide detectors
Smooth and modern drywall finishes on ceilings and walls
Tankless gas water heater
Aluminum stair railing
Pre-wired for ceiling fan in living room and master bedroom


Sample Home Interiors at Botaniko Weston
Botaniko Weston - Bathroom Features
Bathroom cabinets are white lacquered
24" x 24" porcelain tile
24" x 24" matte finish tile on tub/shower walls
Grohe plumbing fixtures
Floating vanity in master bathroom
Frameless shower enclosure in master bathroom
Eurocube double handle widespread faucet
Botaniko Weston - Kitchen Features
Kitchen cabinets manufactured in Italy. Including 42" upper cabinets
Integrated Sub-Zero 48" - wide refrigerator and freezer
Wolf 30" wide electric single wall oven
Wolf 36" wide gas cooktop
Wolf 24" 2.0 microwave with stainless steel trim kit
Bosch 24" built-in automatic coffee maker
Danby 24" Wine Captain cooler
Best 36" IBF4I range hood with electronic controls
Asko 24" specialty dishwasher
Whirlpool food-waste garbage disposal


Beautifully finished Kitchens and Bathrooms at Botaniko Weston
About Botaniko Weston Florida Location
Ranked No. 15 of the Best Places to Live in America, Weston is a place to build a lifetime of memories in the most inviting landscape. Residents enjoy access to 14 meticulously maintained park and recreational facilities, a rich array of year-round cultural and community events, and a beautiful Mediterranean-style Town Center with shopping, dining, and nightlife experiences. Set along the edge of Florida's Everglades National Park, with over 2,200 acres of wetland preserves that support a diverse ecological population, the exclusive community of Weston brings nature's finest gifts together with a dynamic lifestyle and an outstanding level of security. Residents also enjoy the peace of mind that comes from living in a community that boasts the lowest crime rate per capita in the county.
Weston is a city located in Broward County, Florida, USA. Established as a city in 1996, much of the community was developed by Arvida/JMB Realty and is located near the western developmental boundary of Broward County. As of 2006, the city had a total population of 65,793. Weston is part of the South Florida metropolitan area, which is home to 5,463,857 people. An 800 year old Tequesta Indian burial mound is located in the city.
In 2006, Money Magazine ranked Weston 20th in America in the "Biggest Earners" category. It was also ranked as the city with largest job growth in Florida and 18th largest in the nation. BusinessWeek ranked Weston as one of the "best affordable suburbs" in the United States in November 2006. Due to it being a fully planned community, local realtors often state that "everything is located exactly where it should be." In 2008, "Money Magazine" ranked Weston as the 73rd best place to live in America, making it the best place to live in the state of Florida.
Weston Florida Real Estate Geography
Weston is located at 26°6'27" North, 80°23'17" West (26.107534, -80.388151). The city is located at the western edge of development in Broward County. It is bordered by the following municipalities:
On its northeast: Sunrise On its east: Davie On its south: Southwest Ranches
According to the United States Census Bureau the city has a total area of 26.28 mi² (69.1 km²), of which 23.76 square miles (62 km2) is land and 2.52 square miles (7 km2) is water. The total area is 9.59% water.
Weston Florida Demographics
As of April of 2005 there are 61,042 people in the city. The population density is 2,074.2/mi² (800.9/km²). There are 18,943 housing units at an average density of 797.2/mi² (307.8/km²). The racial makeup of the city is 87.83% White (61.8% being Non-Hispanic White,) 3.72% African American, 0.12% Native American, 3.17% Asian, 0.02% Pacific Islander, 2.93% from other races and 2.23% from two or more races. 30.19% of the population are Hispanic or Latino of any race.
There are 16,576 households out of which 51.3% have children under the age of 18 living with them, 71.0% are married couples living together, 9.0% have a female householder with no husband present and 17.6% are non-families. 13.8% of all households are made up of individuals and 3.3% have someone living alone who is 65 years of age or older. The average household size is 2.97 and the average family size is 3.29. In the city the population is spread out with 32.4% under the age of 18, 5.0% from 18 to 24, 36.1% from 25 to 44, 19.8% from 45 to 64 and 6.7% who are 65 years of age or older. The median age is 34 years. For every 100 females there are 94.1 males. For every 100 females age 18 and over there are 90.2 males.
According to a 2008 estimate, the median income for a household in the city is $95,454 and the median income for a family is $105,265. Males have a median income of $63,135 versus $38,119 for females. The per capita income for the city is $42,258. 2.3% of the population and is below the poverty line. Out of the total population, 0.8% of those under the age of 18 and 8.2% of those 65 and older are living below the poverty line.
As of 2000, English was spoken as a first language by 62.54% of the residents and Spanish speakers comprised 31.40% of the population, Portuguese speakers comprised 1.29% of the population. Other languages spoken included French at 0.82%, Korean at 0.49%, and Chinese as a mother tongue of 0.47% of all residents. As of 2000, Weston had the highest number and second highest percentage of Venezuelans, at 4.1% of the city's residents and the fourteenth highest percentage of Colombian residents in the US, at 6.19% of the city's population. It also had the seventy-seventh highest Cuban concentration, at 4.05% of all residents and had the forty-seventh highest percentage of Peruvians in the US, with 1.19% of the population (tied with Orange, New Jersey.) * Ref: http://en.wikipedia.org/wiki/Weston,_Florida
Selling your Botaniko Weston Home? Contact Botaniko Weston real estate area specialist for a free and without obligation market analysis on your real estate property. Also find out the numerous advantages of listing your home with the Botaniko Weston real estate specialist and the benefits it offers to feature your Botaniko Weston real estate home on this site.
Oppenheim Residences at Botaniko Weston
This architecture, interior design, and planning firm with over 60 career distinctions, including 45 AIA Awards, is helmed by Chad Oppenheim, FAIA. The firm designs with sensitivity towards man and nature, harmonizing with the surroundings of each context. Projects are crafted to establish a timeless architecture that is as beautiful as it is functional. The firm specializes in projects that serve to enhance life, crafted to establish the perfect balance between artistry and economics.

Mateu Residences at Botaniko Weston
Over the past 34 years, Roney J. Mateu, FAIA, has received over 65 Awards for Excellence in Design from the American Institute of Architects and has been recognized as one of Florida's leading design architects. His work has been featured in Abitare, Progressive Architecture, Architectural Record, House and Garden, and Metropolitan Home, among other leading publications. Mateu Architecture was selected as 2014 "Firm of the Year" by the Florida Association of the American Institute of Architects.

Location to Botaniko Weston, Florida
NOTHING CONTAINED IN THIS WEBSITE IS INTENDED OR SHALL BE DEEMED TO BE AN OFFER TO SELL REAL ESTATE OR REAL ESTATE SECURITIES TO RESIDENTS OF THE STATE OF NEW YORK. IN FURTHERANCE OF THE FOREGOING, TERRA WESTON RESIDENTIAL, LLC "SPONSOR" OR "DEVELOPER"), SPONSOR HEREBY DISCLOSES THE FOLLOWING: (A) NEITHER SPONSOR, NOR ITS PRINCIPAL(S) TAKING PART IN THE PUBLIC OFFERING OR SALE ARE INCORPORATED IN, LOCATED IN, OR RESIDENT IN THE STATE OF NEW YORK, (B) THE OFFERING IS NEITHER MADE IN THE STATE OF NEW YORK NOR MADE TO THE RESIDENTS OF THE STATE OF NEW YORK, (C) THE OFFERING IS NOT DIRECTED TO ANY PERSON OR ENTITY IN THE STATE OF NEW YORK BY, OR ON BEHALF OF, SPONSOR OR ANYONE ACTING WITH SPONSOR'S KNOWLEDGE; AND (D) NO OFFERING OR PURCHASE OR SALE OF THE SECURITY OR ANY UNIT SHALL TAKE PLACE AS A RESULT OF THIS OFFERING IN NEW YORK OR WITH A RESIDENT OF THE STATE OF NEW YORK, UNTIL ALL REGISTRATION AND FILING REQUIREMENTS UNDER THE MARTIN ACT AND THE NEW YORK ATTORNEY GENERAL'S REGULATIONS ARE COMPLIED WITH; A WRITTEN EXEMPTION IS OBTAINED PURSUANT TO AN APPLICATION IS GRANTED PURSUANT TO AND IN ACCORDANCE WITH COOPERATIVE POLICY STATEMENTS #1 OR #7; OR A "NO-ACTION" REQUEST IS GRANTED.