Information about Beatrice Row Coral Gables
Beatrice Row Coral Gables delivers contemporary style and smart value without forgetting the graceful Mediterranean character of the Gables. At Beatrice Row, quality of life is key. Exquisite 4 bedroom floor plans accentuate the flow of today's live/work/entertain lifestyle. The residences features and careful design and attention to detail made certain that they enhance your daily experience.
Beatrice Row stakes a claim to fashionable urban living while offering access to fine shops and dining. Each of the units is specially tailored for casual yet classy lifestyles. The Beatrice Row Coral Gables townhomes are located in one of the city's premier location. Coral Gables' exclusive residential district is discreetly set apart from the pressures and pace of modern life by a series of dramatic arches that serve as grand entrances to the city, within moments of its eclectic collection of gourmet restaurants, international shops, art galleries, tennis clubs and vibrant green golf courses. And within Coral Gables, no address offers easier access to its many cosmopolitan attractions than Beatrice Row.
Beatrice Row Coral Gables Kitchen
- Spacious kitchen
- White oak cabinets
- Carrara marble countertops
- Thermador appliances
Beatrice Row Coral Gables Floor Plans
DOWNLOAD ALL FLOOR PLANS (PDF)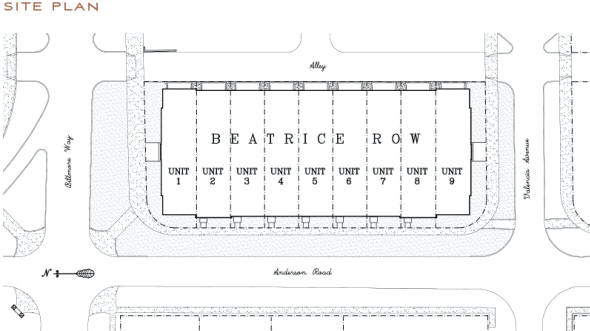 Location to Beatrice Row Coral Gables
OBTAIN THE PROPERTY REPORT REQUIRED BY THE FEDERAL LAW AND READ IT BEFORE SIGNING ANYTHING. NO FEDERAL AGENCY HAS JUDGED THE MERITS OR VALUE, IF ANY, OF THIS PROPERTY. ORAL REPRESENTATIONS CANNOT BE RELIED UPON AS CORRECTLY STATING THE REPRESENTATIONS OF THE DEVELOPER. FOR CORRECT REPRESENTATIONS, MAKE REFERENCE TO THIS BROCHURE AND TO THE DOCUMENTS REQUIRED BY SECTION 718.503, FLORIDA STATUTES, TO BE FURNISHED BY A DEVELOPER TO A BUYER OR LESSEE.
This is not intended to be an offer to sell, or solicitation of an offer to buy, condominium units to residents of CT, ID, NY, NJ and OR, unless registered or exemptions are available, or in any other jurisdiction where prohibited by law, and your eligibility for purchase will depend upon your state of residency. This offering is made only by the prospectus for the condominium and no statement should be relied upon if not made in the prospectus. The sketches, renderings, graphic materials, plans, specifications, terms, conditions and statements contained in this brochure are proposed only with all improvements, designs and construction specifications subject to first obtaining the appropriate federal, state and local permits and approvals for same. Therefore such improvements, designs and construction specifications may change as a requirement of law. And, the Developer (as is defined herein below) reserves the right to revise or modify, in its sole and absolute discretion, any or all improvements, designs and construction specifications depicted and all terms, conditions and statements made. These drawings, rendering, and photographs are conceptual only and are for the convenience of illustrating a proposed development; these drawings, renderings and photographs should not be relied upon as representations, express or implied, of the final detail of the residences. All depictions of appliances, fixtures, counters, soffits, wall coverings, floor coverings, furnishings, closets, and other matters of detail, including, without limitation, items of finish and decoration, are conceptual only and are not necessarily the final finishes and details included with the purchase of a Unit. Consult your Purchase Agreement and the Prospectus for information on what is included with Unit purchases. The photographs contained in this brochure may be stock photography, or may have been taken off-site and are used to depict the spirit of the lifestyles to be achieved rather than any that may exist or that may be proposed, and the photographs are merely intended as illustrations of the activities and concepts depicted therein. No statements or representations have been made by Seller, or any of its agents, employees or representatives with respect to any potential for future profit, any future appreciation in value, investment opportunity potential, any rental income potential, the ability or willingness of Developer, or its affiliates, to assist any buyer in financing, renting (other than the existence of a voluntary rental program) or selling the Unit (except only in response to a direct inquiry from buyer), the economic or tax benefits to be derived from the managerial efforts of a third party as a result of renting the Unit or other units, or the economic or tax benefits to be derived from ownership of the Unit. The Developer, its agents, employees, and representatives are neither investment advisors nor tax advisors and any statement that may have been made should not be relied upon in your decision to purchase. Certain nearby attractions referenced or identified in this publication are off-site and not controlled by the Developer. The references to nearby attractions are based upon public information sources and are believed to be accurate as of the date of this publication; however, there is no guarantee that such attractions will continue to exist, or that there would not be changes and/or substitutions of any of the same. The managing entities, operators, amenities and other features that may be referred to are accurate as of the date of this publication; however, there is no guarantee that the managing entities, operators, amenities and other features that may be referred to will be involved at, or following, the completion of the Condominium. The Developer reserves the right to change any and all such managing entities, operators, amenities and other features that may be referred to as the Developer deems best for the Condominium in the Developer's sole and absolute discretion. Dimensions and square footage of the Units are approximate and may vary with actual construction. This Condominium is being developed by MG Developer Miami, LLC and United Developers Miami, LLC ("Developers"), which have a limited right to use the trademarked names and logos used herein pursuant to a license and marketing agreement. You will look solely to Developer with respect to any and all matters relating to the sales, marketing, and development of the Condominium or your purchase of a Unit in the Condominium. No real estate broker is authorized to make any representations or other statements regarding the project, and no agreements with, deposits paid to or other arrangements made with any real estate broker are or shall be binding on the Developer. All prices are subject to change at any time and without notice, and do not include optional features or premiums for upgraded units. From time to time, price changes may have occurred that are not yet reflected on this brochure. Please check with the sales center for the most current pricing. Concierge services that may be described are available to Unit owners who pay additional fees. Consult the Prospectus for the site plan and the location of the Unit you desire. Unless otherwise noted, the content is owned by Developer and the unauthorized reproduction, display or other dissemination of such materials is strictly prohibited and constitutes copyright infringement.