ENTER 1000 MUSEUM CONDO HOME PAGE
1000 Museum Condo Brickell Description
1000 Museum Bay features luxury and technology sophistication at hand. Miami's new jewel offers an exclusive lifestyle with stunning bay views, design elements and extraordinary amenities that will appeal your senses. Situated in the heart of Downtown Miami and facing Biscayne Bay, 1000 Museum will sure invite you to discover a new life with entertainment and business at walking distance from your residence's retreat. With new entertainment and shops being developed in the neighborhood, 1000 Museum promises to be the place to be either as your primary residence or for second home, corporate relocation is also the choice for multinational with headquarters in the business district.
East-to-West flow-through floor plans range from 4,600 to 9,900 square feet and feature 10 to 20-foot ceiling heights. Every residence offers multiple oversized terraces, each of which is uniquely formed by the sensual curves of the tower's sculptural exoskeleton. Every aspect of each unique home, from layout planning and specification of sophisticated finishes to fully customized interior lighting, has been considered in light of the world-class quality of the exterior architecture as well as the expectations of highly discriminating clientele. All residences will offer a choice of flooring finishes and custom closet interiors, which will also be available in a range of finishes.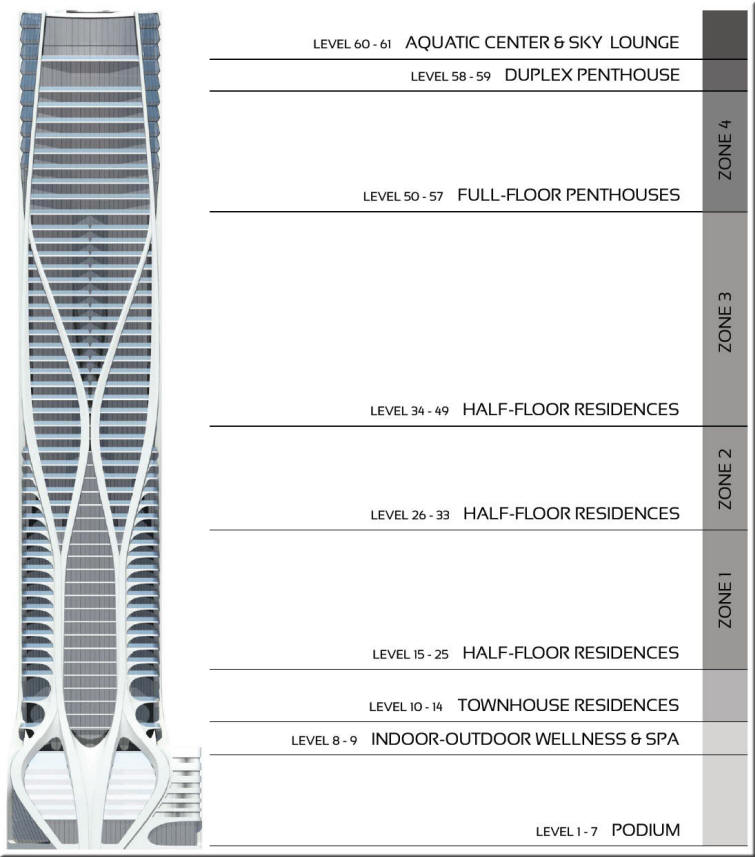 BED / BATH
BALCONY
SQ.FT.
DOWNLOAD
JPG
HALF FLOOR RESIDENCES - ZONE 1 - LEVELS 15 -25
4/5.5
Interior - 4,601
Terrace - 819
Total - 5,420

Download JPG
HALF FLOOR RESIDENCES - ZONE 2 - LEVELS 26-33
4/5.5
Interior - 4,599
Terrace - 781
Total - 5,380

Download JPG
About the 1000 Museum Condo
Surrounding 1000 Museum, the vibrant Downtown/Brickell area is thriving, evolving, awaiting your discovery. It is the city of Miami at the top of its game… global and local, worldly, but with a hometown feel… a world-renowned financial center and business district where art and cultural museums, government offices, restaurants, cafes, parks and clubs are equally at home. It is dynamic and people friendly, linked both by cross-cultural currents and cross-town rapid transit.